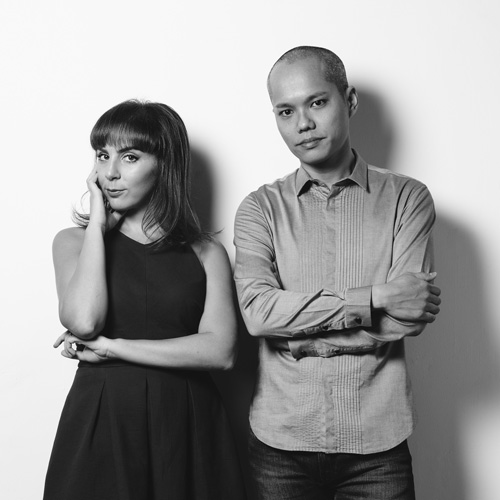 Designer:
Lanzavecchia&Wai
Lanzavecchia + Wai è una collaborazione creativa tra Francesca Lanzavecchia (Pavia, 1983) e Hunn Wai (Londra, 1980).
Per loro il designer è allo stesso tempo ricercatore, ingegnere, artigiano e narratore. La loro collaborazione inizia alla Design Academy di Eindhoven, in Olanda, sotto la supervisione di Gijs Bakker, cofondatore di Droog Design. Lanzavecchia concentra la sua attenzione sulle relazioni che gli oggetti stabiliscono o possono stabilire con il corpo e l'anima dell'uomo, con uno sguardo attento al futuro. Wai è affascinato dall'impatto e dalla fusione dei materiali, forme e significati. 
I progetti di design sono per loro viaggi di ricerca caratterizzati dall'indagine e dall'utilizzo selettivo di differenti applicazioni della progettazione da curare, incrociare e nutrire nell'ambito di concetti e prodotti che suggeriscono possibilità e ispirano nuove prospettive.
Lo studio ha sede a Pavia e a Singapore ed è stato ufficialmente istituito nel 2009.   I loro progetti comprendono edizioni limitate per gallerie e musei, prodotti industriali  e progetti speciali per brand come Alcantara, Samsonite, Mercedes Benz e AgustaWestland. Nel corso di questi anni hanno ricevuto diversi riconoscimenti tra cui il prestigioso premio Elle Décor International Design Award 2014 nella categoria "Young Designer Talent of the Year".
Lanzavecchia + Wai is a creative collaboration between Francesca Lanzavecchia (Pavia, 1983) and Hunn Wai (London, 1980).
To them, being designers means being researchers, engineers, craftsmen and story-tellers all at the same time. They began their cooperation at the Design Academy in Eindhoven, Holland, under the supervision of Gijs Bakker, co-founder of Droog Design. Lanzavecchia is focused on the relationships objects have and can have with the human body and soul as well as having a fervent eye for future trends.  Wai is fascinated by the collisions and fusions of materials, meanings and forms. 
Design projects to them are research journeys characterized by the pursuit and selective employment of different design disciplines and professional competences, to be curated, cross-bred and nurtured into concepts and products that propose possibilities and inspire new perspectives.
The design studio based both in Italy and Singapore was officially established in 2009 and their work spans from limited editions for galleries and museums, to mass products for major companies, to special commissions for brands like Alcantara, Samsonite, Mercedes Benz, AgustaWestland. Their recent accomplishments include being awarded with the "Young Design Talent of the Year" by Elle Décor International Design Awards 2014.